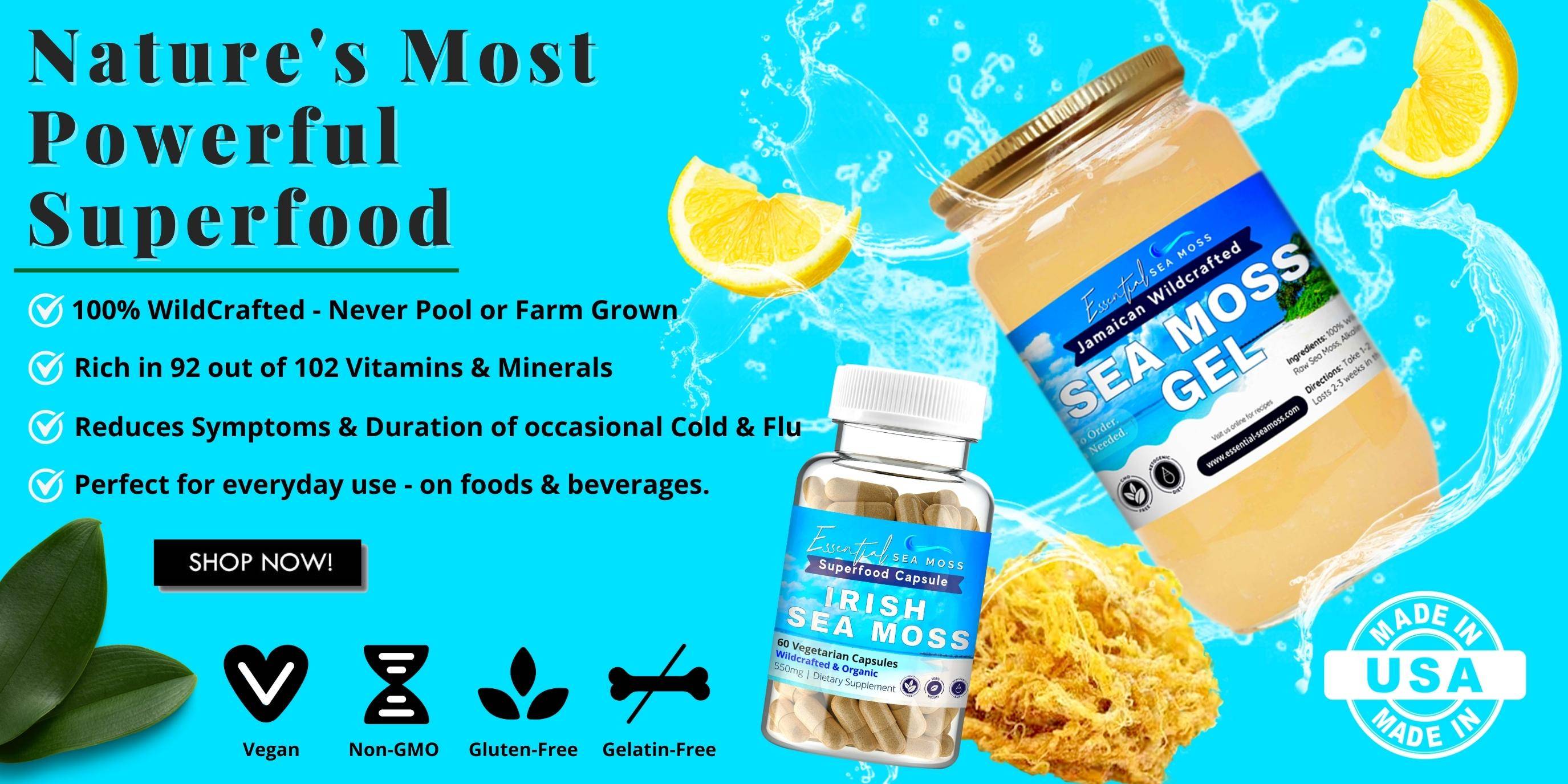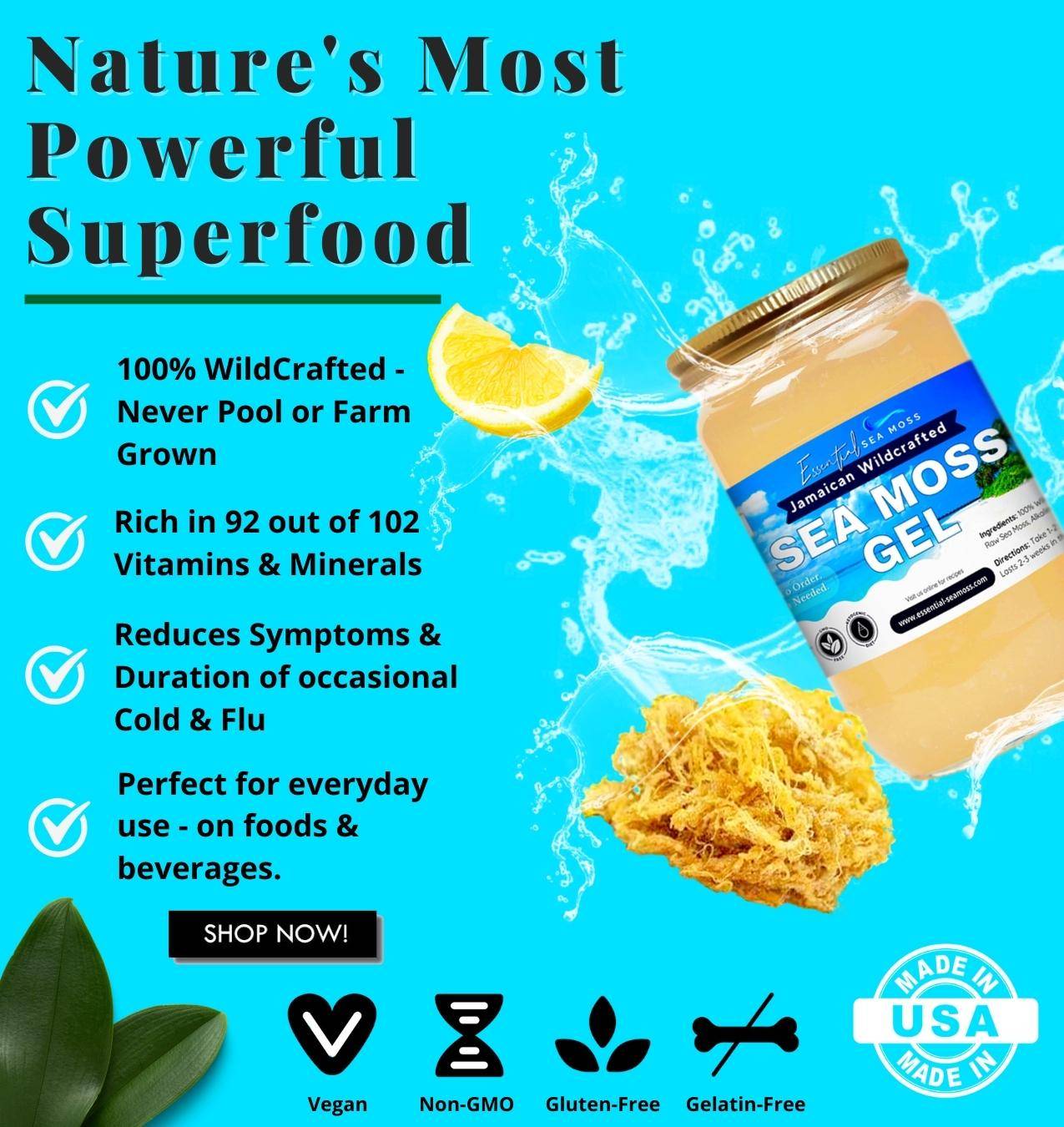 Sea moss contains 92 of 102 trace minerals that are essential for our bodies. Sea moss provides the body with Vitamin A, B Vitamins, C, D, E and K. It contains calcium, iodine, beta-carotene, bromine, iron, magnesium, manganese, pectin, protein, sulphur compounds, selenium, and zinc along with many other nutrients.
Most women are diagnosed with Thyroid issues in their pubescent years. Since the Thyroid is mainly responsible for regulating hormones, an imbalance can lead to fertility issues, menstrual problems and/or fibroids. These Thyroid disorders are typically caused by a lack of iodine and/or selenium. This is where Irish Moss elevates itself. It is packed with more iodine and selenium than any other food on the planet. In the Caribbean, Irish Moss is part of the local diet, it explains why significantly less women are diagnosed with Thyroid Disorders.
A lack of oxygen in the blood results in lower hemoglobin levels and decreased red blood cell count. This condition is usually diagnosed as anemia. Irish Moss, which is rich iron helps to maintain a healthy red blood cell count, and fight this condition.
It's a perfect supplement for you if you aim to lose weight naturally and don't want to gain it back again. When consumed, sea moss helps decrease the appetite by making you feel full as it controls your cravings. The gentle laxative effect of Sea Moss, also helps to process waste through the body faster, and accelerate weight loss.
This must-have mineral works with sodium to balance the fluids and electrolytes in the body. The potassium in sea moss helps keep blood pressure under control and may even help reduce kidney stones and bone loss as you age.
Sea moss is rich in magnesium and potassium - minerals that are crucial in maintaining healthy brain functions. Some studies have shown that sea moss may slow down the effects of Parkinson's disease.
Sea Moss's anti-inflammatory properties help to decrease swelling in and around the joints. In addition, it soothes the soft tissue and promotes motility. This algae is a go-to for anyone suffering from Arthritis, joint pain or even athletes desiring to speed recovery after intense workouts.
Sea Moss have been used for centuries to relieve gastritis and ulcerative conditions of the digestive tract. Acting as a mild laxative, its demulcent qualities are lubricating and soothing to the mucous membranes and lining of the stomach and intestines.
Sea moss has high levels of B vitamins. Riboflavin (B2) helps break down proteins, carbohydrates, and fats. Folate (B9) aids in the production of DNA and other genetic materials.
As a natural aphrodisiac, this will help with sex drive. It is rich in Zinc, Vitamin E which helps with sperm production. Some say it also helped with fertility and increased libido.
Sea moss' gelatin-like texture is an effective mask for treating eczema, psoriasis, dermatitis, burns, and other dermatologic reactions. It is FULL of minerals that your skin craves. It is a natural collagen and will help give you skin a natural healthy glow.
Sea moss relieves the symptoms of cold and flu and eliminate persistent coughs and phlegm. Rich in polysaccharides, which strengthens the immune system. It also helps reduce the risk of cancer and other chronic illnesses such as autoimmune disease.
Meet the sea moss family. Whether you want it flavored, capsules, raw, or as a soap, there is something here for you.
Stock up! Our health packs address issues such as weight loss, joint health, energy support, and more! Choose your bundle & save on your order now.
What Our Customers Have To Say...
This is the real deal. Thank God! Been searching all over. Authentic wild harvested sea moss as described by Dr Sebi. It is golden in color (not pale), the stems were thin (not thick), it smelled like the ocean (not chlorine), was completely dry (not moist) when received, and was crunchy but not brittle when squeezed and stretched.
- Earl W.
I don't normally do ratings but damn!! The sea moss gel got my skin glowing. Everywhere I go people are always asking what I use. I have so much energy that I ended up cleaning all 3 of my bathrooms on the same day and cooked breakfast, lunch, and dinner instead of ordering takeout. My family was happy and so am I. Thank you.
- Janelle M.
I have never purchased seamoss before until now. I actually love it and I'm sold on it forever. I've been taking this supplement for a short period of time and I have so much more energy, less pain in my joints, and feel good all day. Amazed!
- Leah C.
I started taking this in September. Since then it has increased my energy, appetite is suppressed, blood levels increased ( severe anemic) no need to take additional iron supplements after taking these pills. I lost about 15 pounds in 4 weeks and my sleep has also improved ❤️
- Tanya B.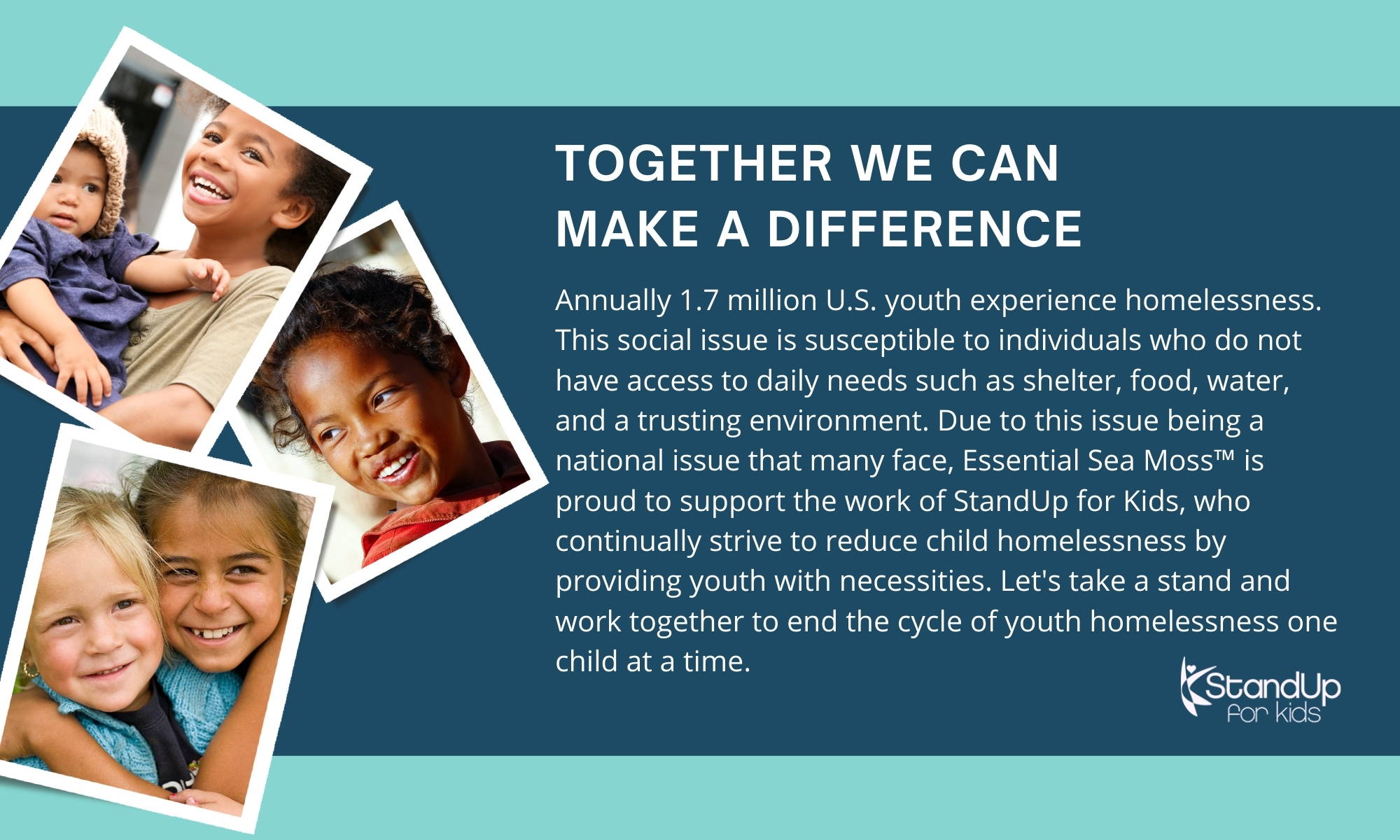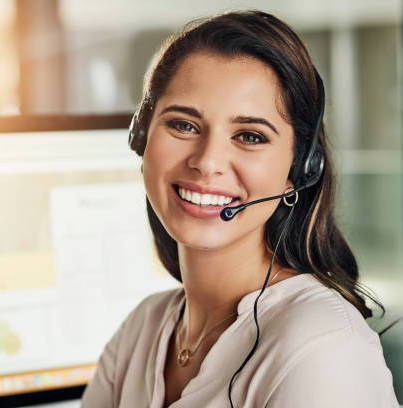 How long is the processing time for custom orders?

All orders are shipped via standard shipping service. Usually, the preparation and shipping of your order take 3 to 5 working days, while delivery timing to your doorstep takes 1-3 days depending on your location.
There is an error with my order, what do I do?

We're so sorry if the product you received is different from the order. Please contact our customer support to send back the item for a replacement at no additional costs.
Can I purchase wholesale?

Yes, please contact us to get access to the wholesale page.
Can I track my online order?
A shipping notification with tracking details will be sent via email after your order has shipped. You will receive multiple email acknowledgements if your order results in more than one shipment.

Receive our Sea Moss at your doorstep lightning fast, and super fresh.

Keto Friendly, Vegan, & Non GMO
Made with care to ensure you consume the healthiest (non-GMO and raw) sea moss ever.